The route: Porsanger-Olderfjord on E1. Day 4-9. June 6-11, 2019. 70 km.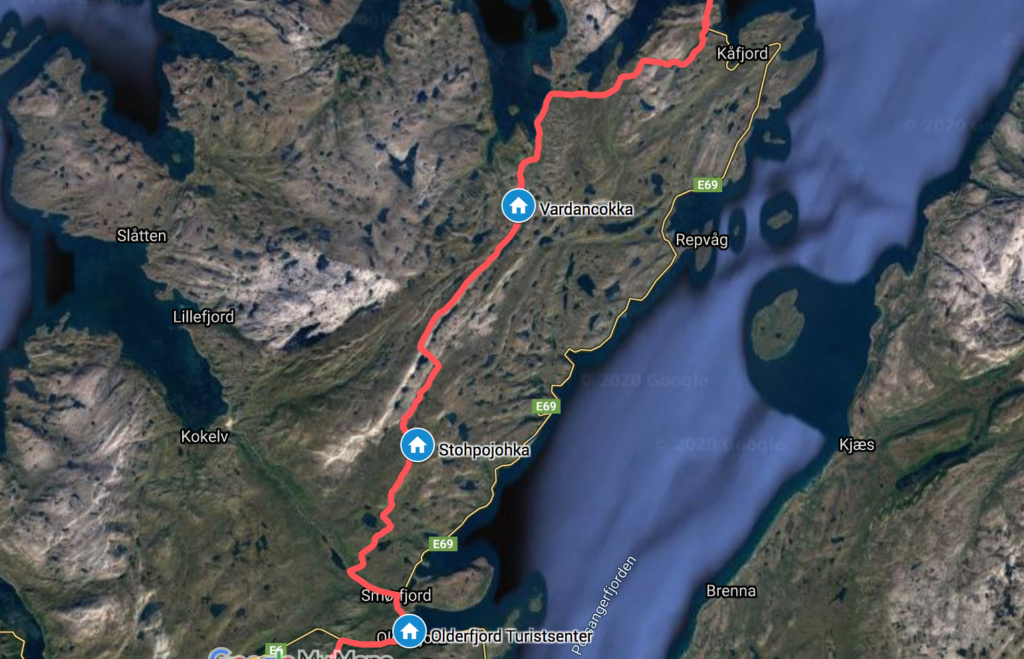 Just out of the North Cape tunnel, I started the 70 km crossing of the Porsanger peninsula by underestimating two relatively small rivers in a row by as much as 50 cm, resulting in soaked boots. The clear water is treacherous and always deeper than you think. However, already here around midnight on day three, I camped at what turned to be one of the most stunning spots of the entire trip: Fisketindvatnet (Roggejávri), image on top of this post.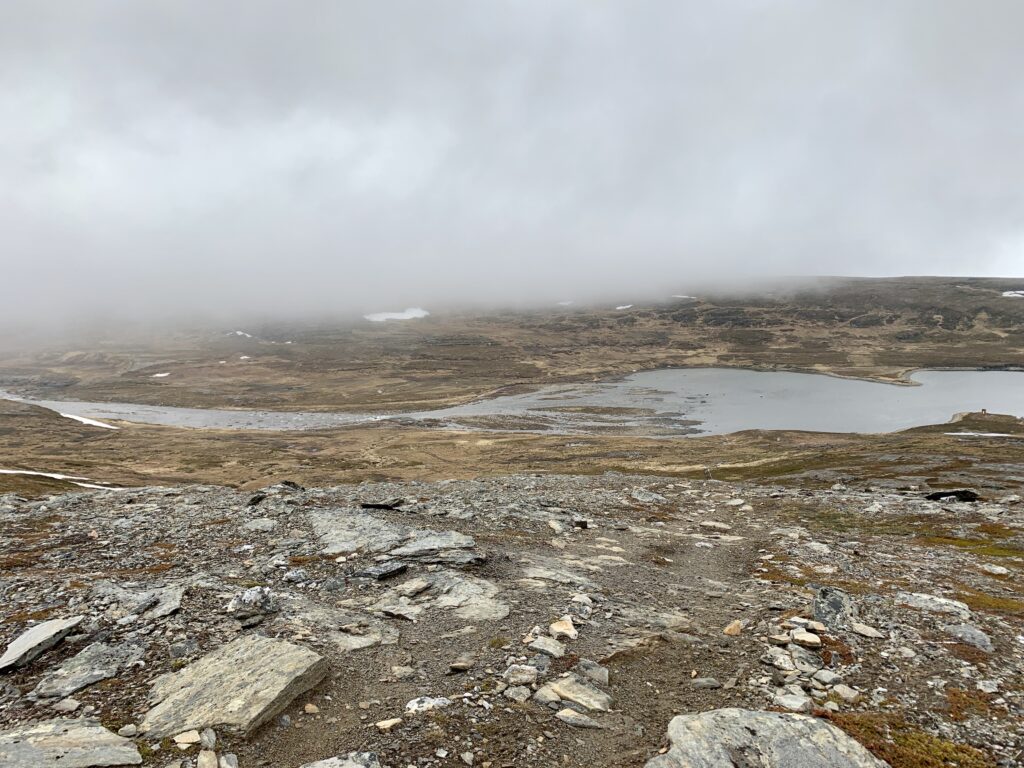 The biggest river of the Porsanger section is Lafjordelva. Crossing at the mouth of the delta, as opposed to higher up where the markings are, was uncomplicated, though cold. Normally, facing bigger rivers like this, I keep the boots on, remove the soles and socks, then cross. My light hiking sandals are quite simply not stable enough on slippery rocks. But it does take several days for the boots to dry.
The weather is so rough in this area that trail markers are often eroded away, especially along the deserted shore of the Barents Sea, where I stumbled over incredible numbers of debris washed onshore, including something I briefly suspected was a hand grenade but probably was some kind of anchor.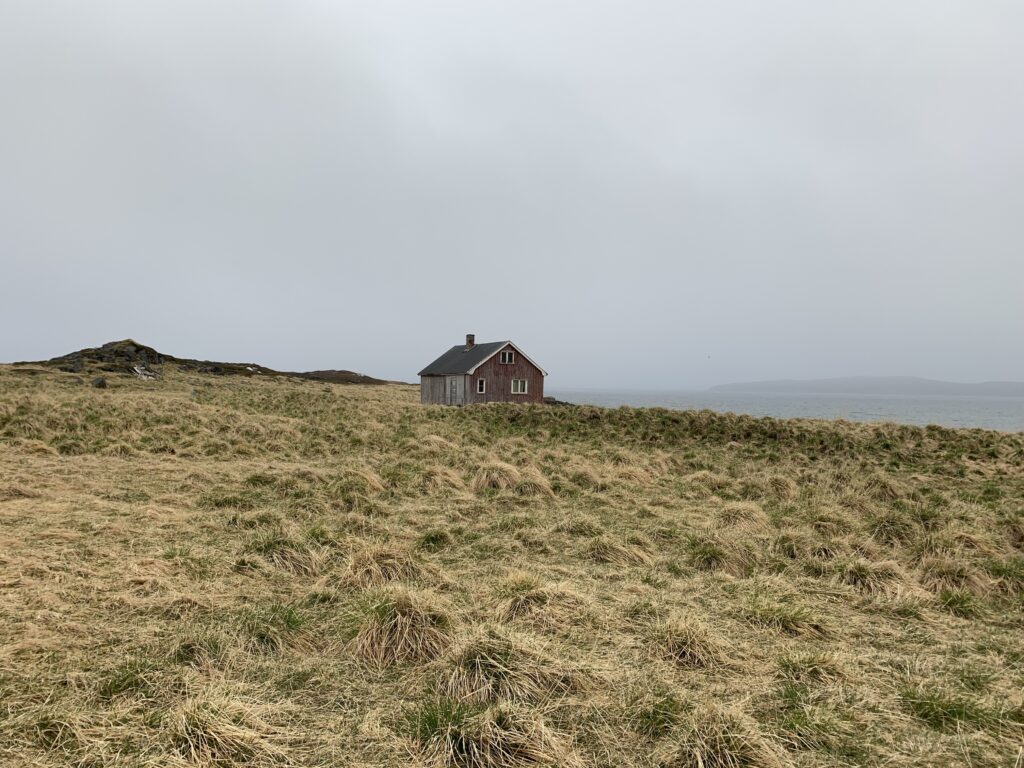 Reindeer fences pop up randomly, quite often blocking the trail requiring hikers to either squeeze under or crawl over the fences, or walk beside it looking for a broken section, which is not at all uncommon. Further down south, pedestrian passages have been made through the fences, but I did not see much of that in Finnmark.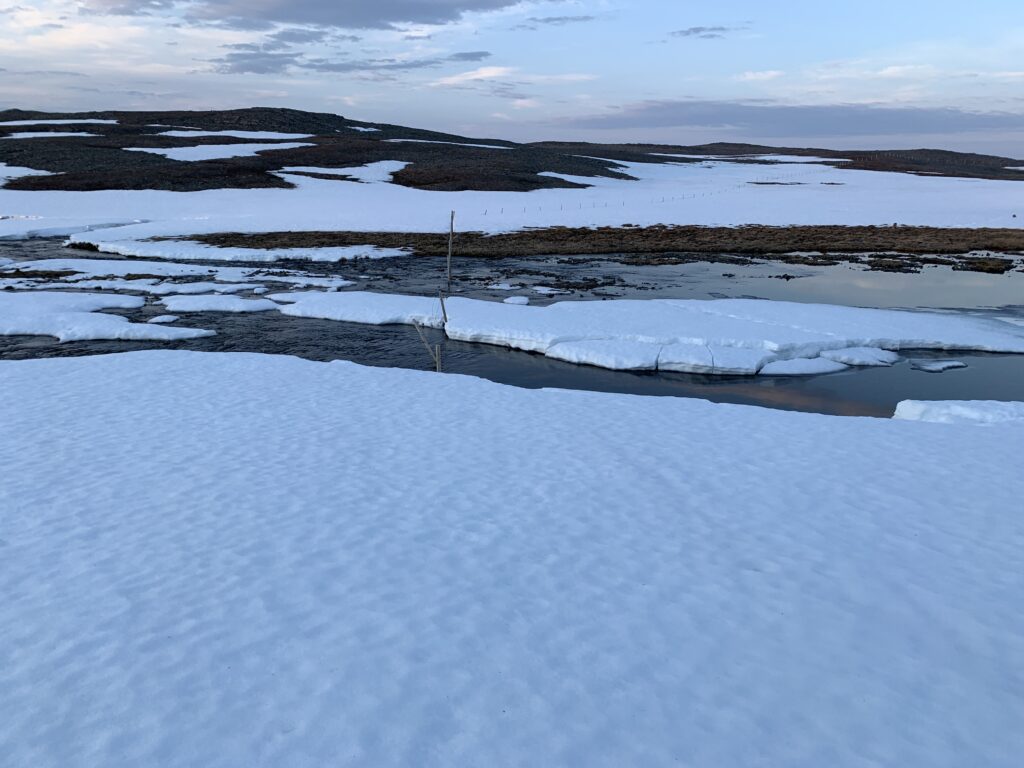 Before leaving, I had identified the area around Gárdevárri, central on the Porsanger peninsula, as the only one in Finnmark still with snow on the trail. Immediately before losing phone connection I re-checked the situation on senorge.no: Still between 25-50 cm snow for 15-20 km of the trail. Unsure what to make of that, I continued. Less than 50 people cross this peninsula every year, and I definitely wanted to be one of these. Most of this section follows a reindeer fence and route finding is thus not a problem. However once I reached the rotten spring snow walking was quite simply exhausting and I walked for hours not advancing more than 1 km/h.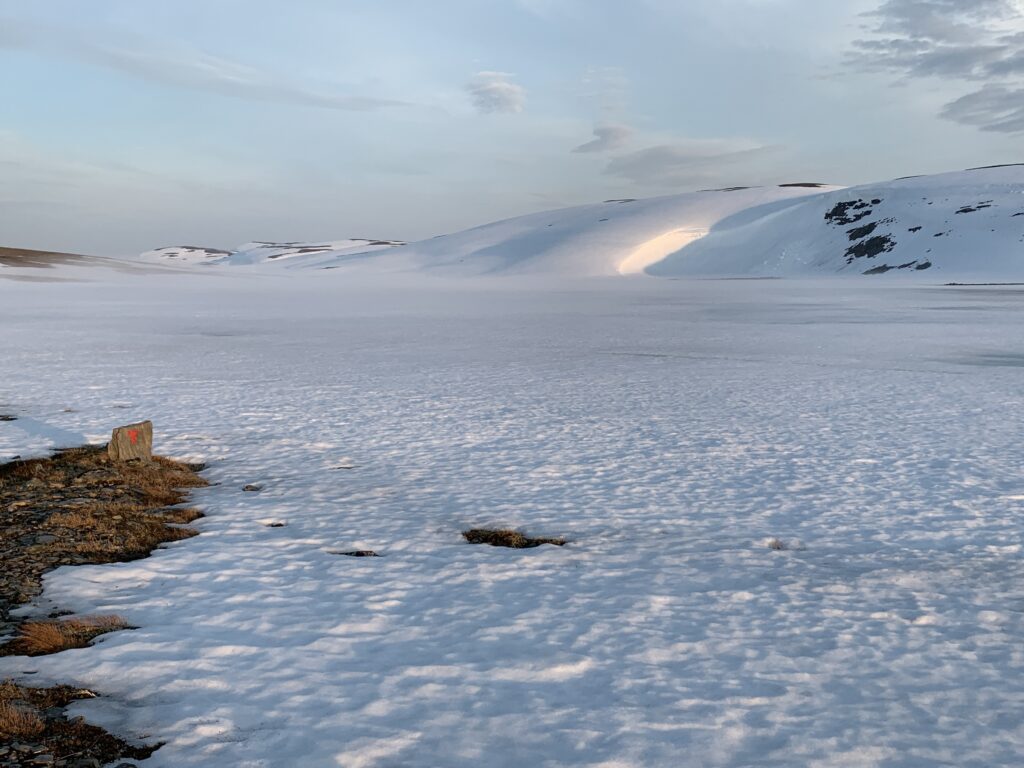 Finally, at 3 am in the morning, having struggled through rotten snow since early evening I finally fell through a snow bridge into an (admittedly small) river. I had enough and camped right there on the slope. Where I ended up spending the following day in the tent due to bad weather, listening to podcasts.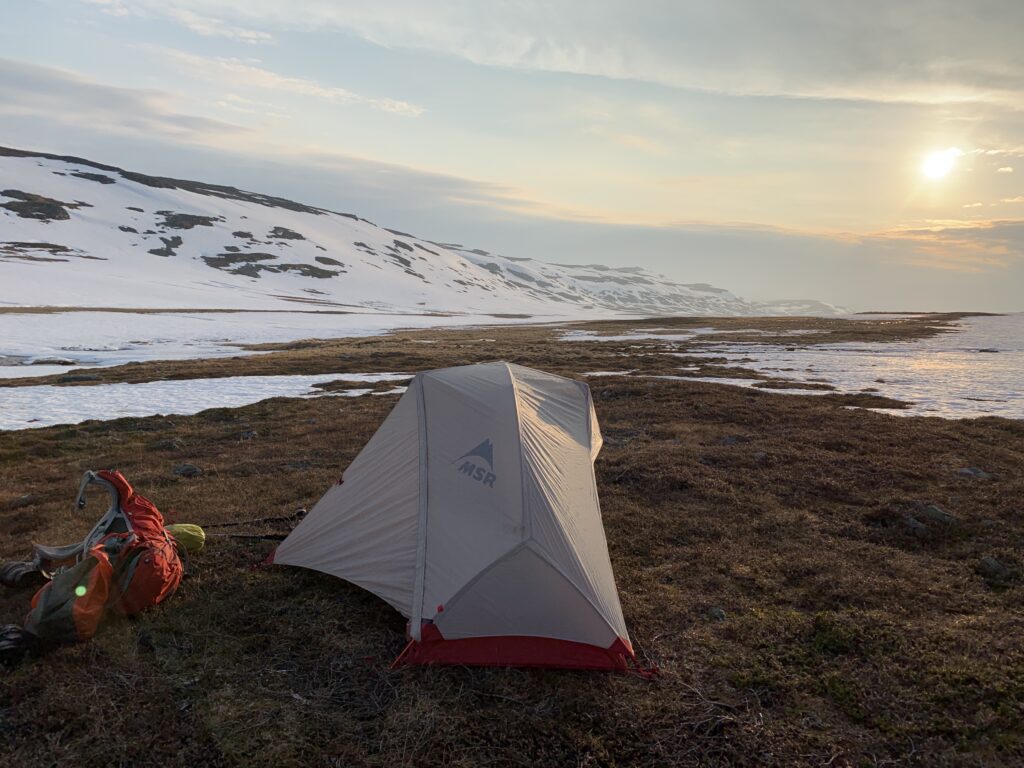 Some may think that the worst weather to walk in is when temperatures drop far below zero. It is not. The worst type of weather is a windy mix of rain and snow with temperatures around zero. Statistics support that the number of fatalities in the Norwegian mountains is indeed highest in exactly this kind of weather. No matter the quality of your gear, it is impossible to avoid getting drenched and freezing cold. Combine that with constantly sinking into thigh-deep rotten snow and you end up with one of the two toughest days of the entire trip (the other one being down in Suldalsheiene).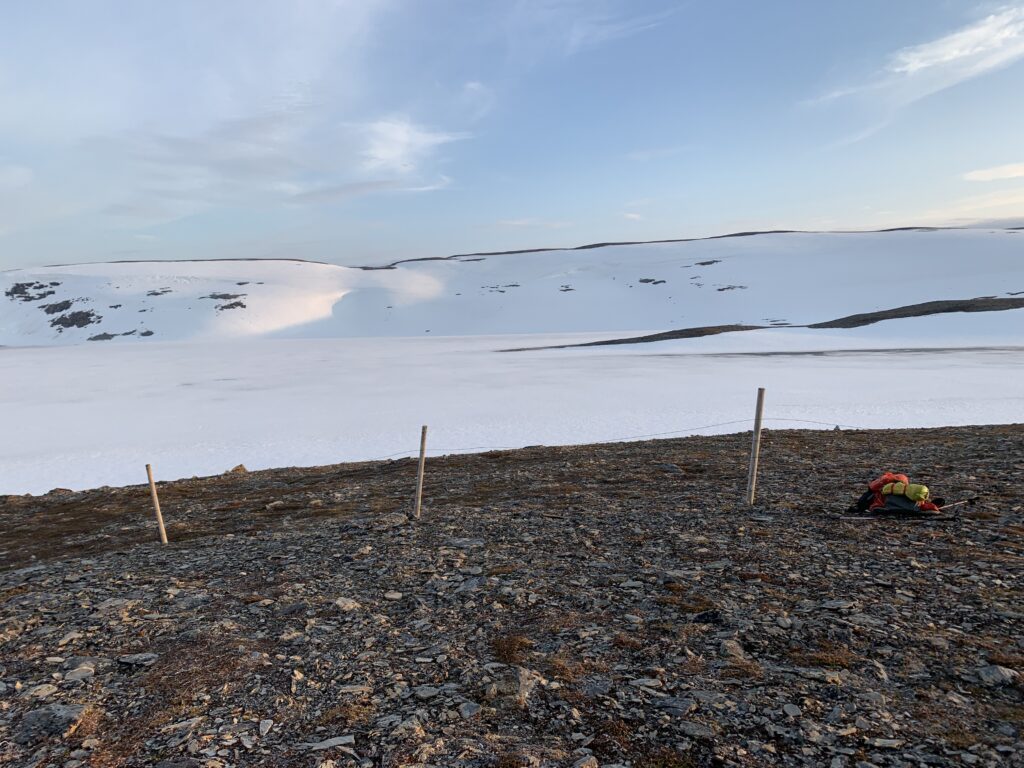 Trying to optimize the route, as opposed to following the DNT markers, I was completely drenched when I finally arrived at the open Stohpojohka cabin. Had there been firewood here, I definitely would have stayed. Especially since I had internet connection for the first time in several days. Many essential things to check: Most importantly, the weather forecast. And the availability at the Olderfjord hotel. Instead I got stuck with the official news of the signing of Eden Hazard to Real Madrid and completely forgot about the weather until the connection disappeared.
Fortunately, from Stohpojohka, there were only a relatively short distance left through the snow. But completely drenched I walked down to Olderfjord Turistsenter to dry up before heading out on Finnmarksvidda.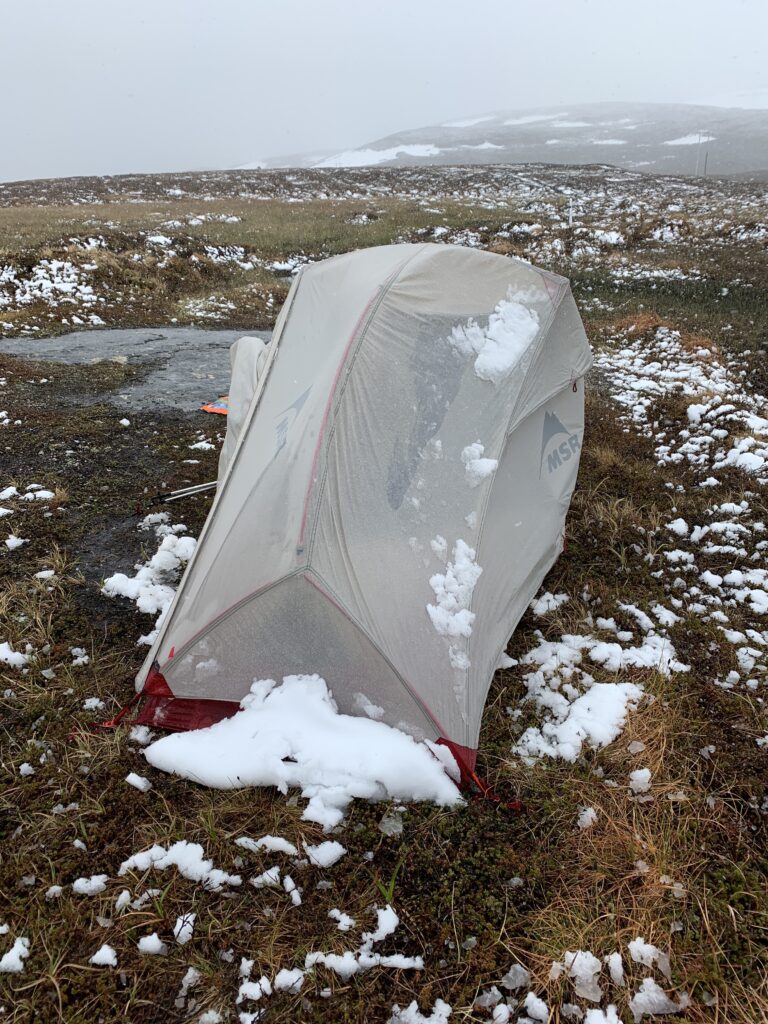 Some of the lessons learned until now:
#1: Never give up on situation (hiking route, river crossing etc) in prognostic borderline conditions or based on hear-say: Always evaluate the situation yourself before making major route decisions.
#2: Know that you tend to underestimate water depth when the water is crystal clear.
#3: Always start by checking the weather after an extended period of offline time. You never know when you´ll lose the connection.
#4: The mix of rain and snow around zero degrees is the worst weather possible. Do not wear a down jacket in this type of weather, not even under a shell jacket, it will get completely soaked.
#5: While snowfields in late summer are fine and hard, the spring snow is rotten and a nightmare to walk in.
#6: Crocs or even light sandals are not for river crossings. I knew that before, but it was reconfirmed here.