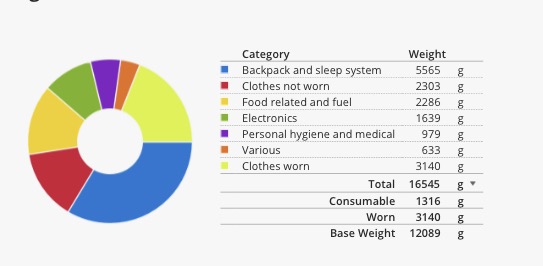 Frankly speaking, most gear set-ups will probably work for most walking Norge på Langs, and the only important recommendation I will put forward is to use well-tested equipment and bring repair kits for basic repairs.
While I do not belong in the ultra-light hiking category, I am nevertheless quite conscious of weight: Base weight (without food) should not exceed 11-12 kg, and I do not intend to carry more than 20 kg at any point including the 12-day food carrying stretches. Thus, as I do not resupply, the main challenge was to bring equipment sufficient for the duration of the trip, covering a temperature span of >30°C, while keeping the weight reasonably down at the same time. Whether you walk for one week or three months, your basic gear requirements are essentially the same.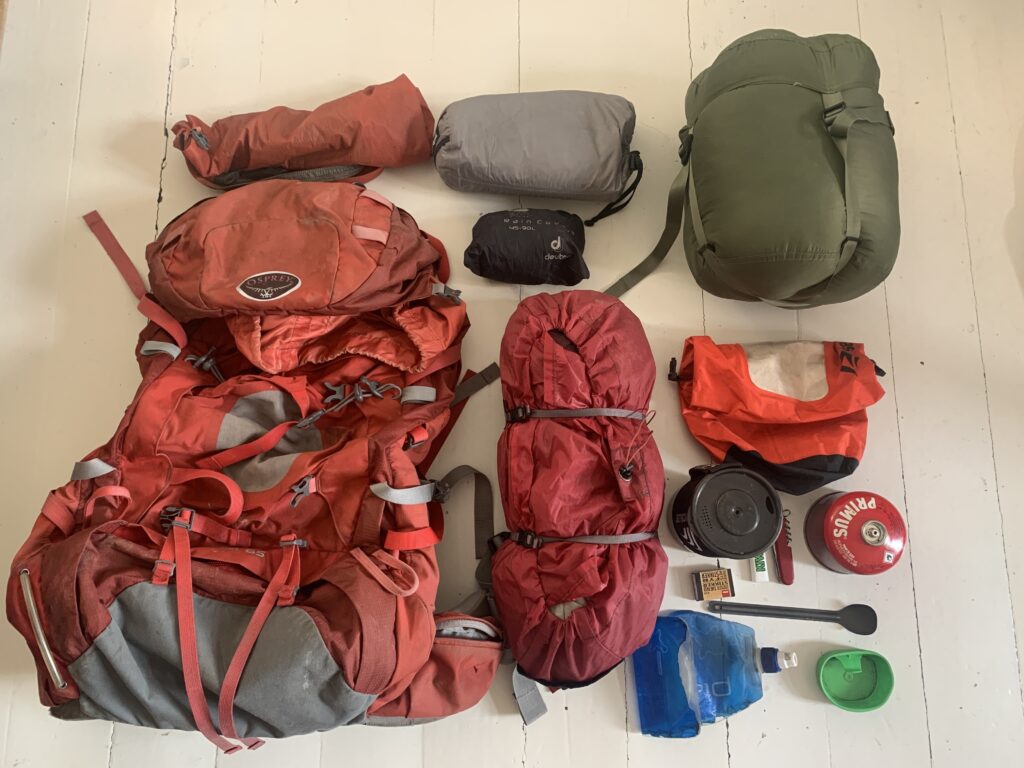 Backpack: Osprey Ariel AG 65 L: 5 years old. With the tent strapped on the outside together with the main food bag (for the long unsupported stretches), 65 L was enough space. I had no issues at all with this backpack.
Sleeping bag: Warmpeace Viking 900: 6 years old. Comfort temp: -7 °C. While I did not encounter temperatures below -3 °C, I spent many nights around zero. Tore a small hole in it in Ryfylkeheiene (repaired with a patch). I never had a cold moment in this sleeping bag.
Helsport Compression Bag M: Had to buy this new compression bag in Alta as the one I initially brought (from Sea To Summit) broke down. Furthermore I used an ordinary plastic bag, to ensure the sleeping bag never was wet.
Sleeping pad: Thermarest NeoAir X Therm Regular: 6 years old. Worked perfectly throughout the entire trip. Never had a hole in it despite the quite rough use.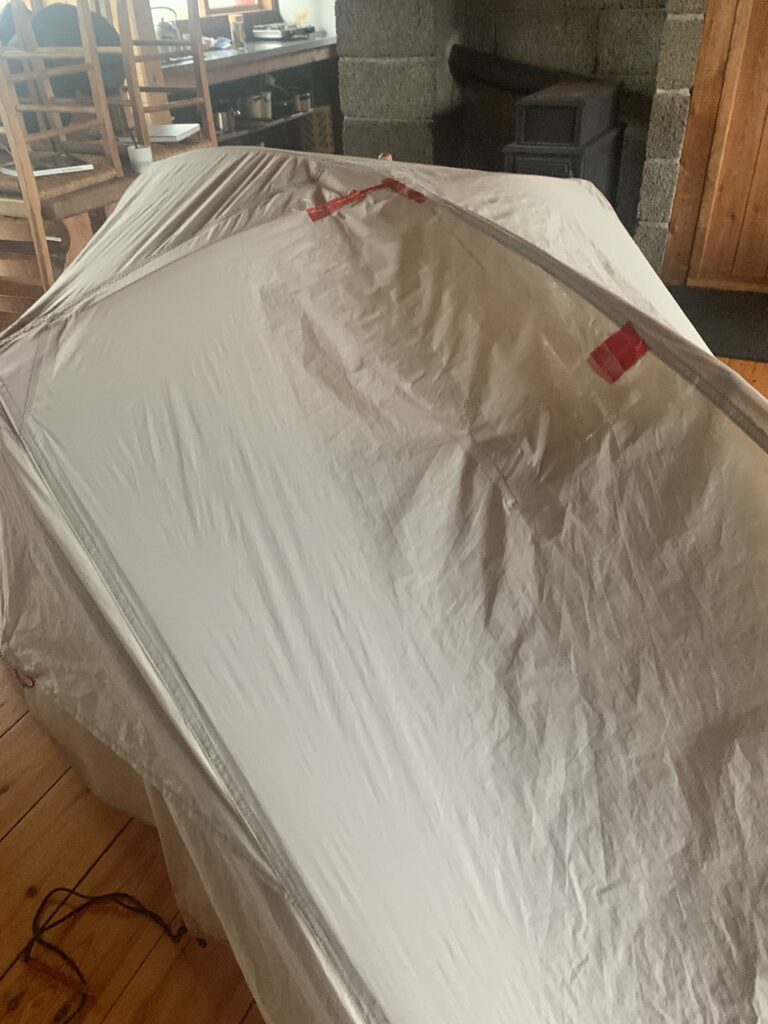 Tent: MSR Hubba NX 1- person. 6 years old. A 3-season tent, especially susceptible to side winds. I would not trust it to handle more than 12 m/s wind. Objectively I don´t think this tent is adequate for the long wilderness stretches I´d have to pass (such as Finnmarksvidda), but after lifting my backpack in Abisko parking lot (including my 2,2 kg Hilleberg Soulo 4-season tent) I took a calculated risk and went for this 1,3 kg tent. It went well, but I would not recommend saving weight on something as essential as the tent. The tent is 6 years old and used a lot as I like the very spacious design. I had no tent issues in the North. However, in the South a pole broke on the second day while setting the tent up peacefully in a forest just outside Trondheim (temporarily fixed with replacement tube). Later on, the storm in Ryfylkeheiene led to a large 2* 40 cm tear in the outer tent, repaired with a piece of glued-on plastic trash bag. When camping in wet and rainy conditions, as I did in Jotunheimen, the outer tent remained dry, but water leaked into the tent from the bottom. I did not use a footprint.
Deuter Rain Cover (45-90 L)
Osprey 30 L drysack (for the tent)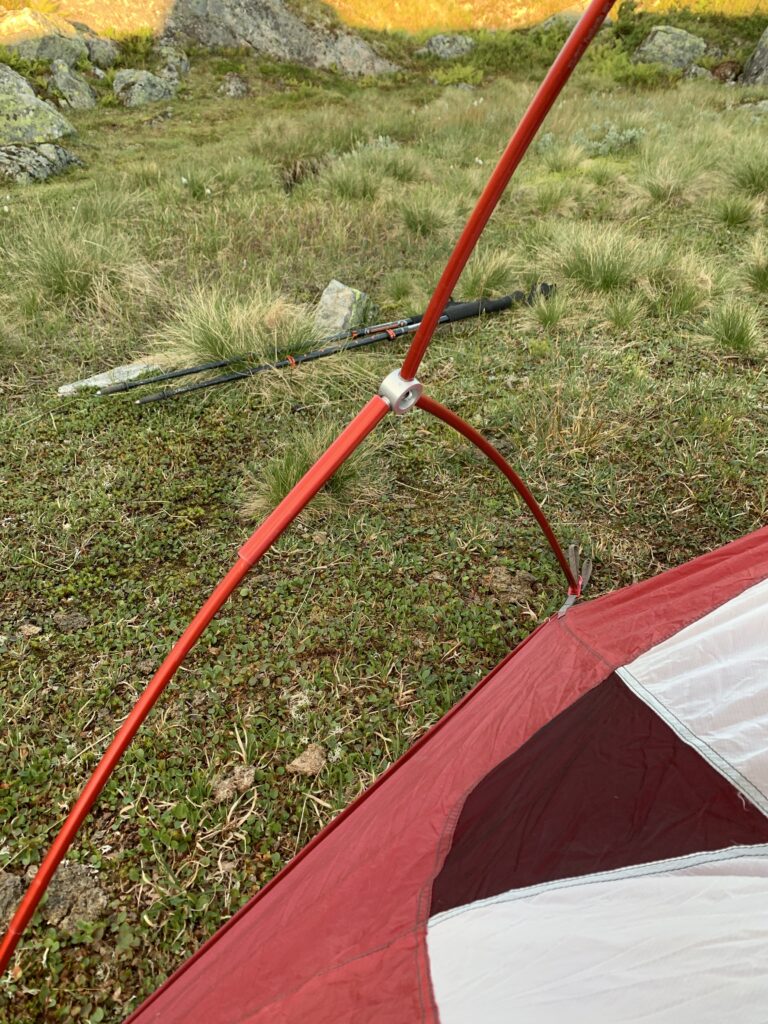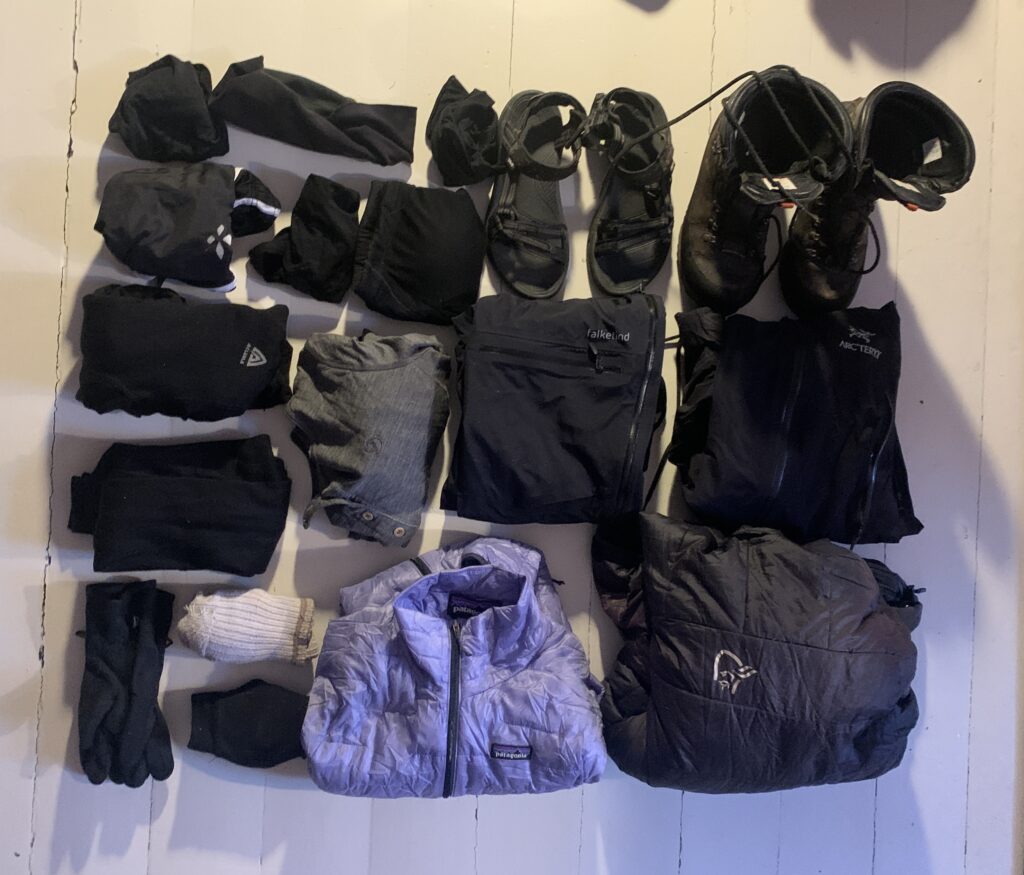 Clothes: Two sets of clothes: One set for sleeping, one set for walking.
Clothes for walking:
The Boots: From Kilpisjärvi I walked in the brand-new Alfa Bever Pro Advance GTX boots I had to go off-trail and buy in Tromsø, as my 3-year old Meindl boots broke irreversibly in Reisadalen, probably after being exposed to too much heat in a small log cabin. Weighing 895 gr per boot, th boots, marketed as hunting boots, are far from light, but they were perfect for the conditions and so high that the vast majority of rivers could be crossed keeping them on.
The pants: Norrøna Falketind Gore Tex pants are marketed as breathable, all-round Gore-Tex pants. They work best below 10 °C and are probably not breathable enough for this kind of nordic summer hiking trip, despite leg-long zippers. I found them comfortable and, in fact, ended up buying two pairs: The first were ruined with a large tear on the buttock crawling on a suspect bridge near Cunojávri, the second pair were ruined by an even larger tear sliding down a snow field as well as a scree slope in Kyrkjesteinsdalen. Thus, in my opinion, the pants are not worth the money for this kind of trip, especially since Norrøna charged half the price of a new pair to repair them afterwards. Thus I ended up losing almost 1000 US dollars for two brand-new pants, which both broke during the trip. In hindsight, I should probably have brought my Fjällräven hiking pants, but I thought the Norrøna pants would be more allround, especially in rainy and snowy conditions.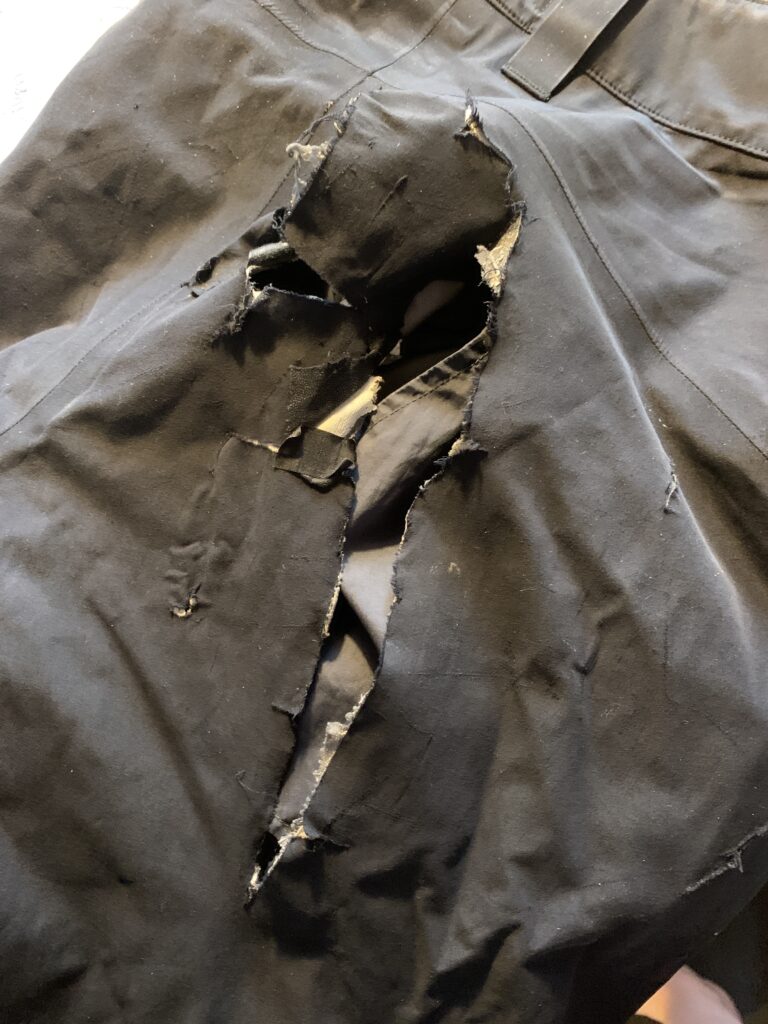 Master running shorts: For the summer days, of which there were quite a lot.
Upper body 1st layer: Basic sweater for hiking: A 6-year old Fjällräven Base Sweater no 3 (2019), a 5-year old Aclima granddad sweater (2020).
Upper body 2nd layer: Patagonia Micro Puff jacket. 3 years old. Used in cold/windy conditions.
Upper body 3rd layer:
Arcteryx Alpha SV shell jacket. 6 years old. Not as waterproof as it has been, however a great jacket that I have used 100 of times, well worth the (quite high) price.
Norrøna Trollveggen down jacket. 4 years old. A genuine winter jacket. Wore it when temperatures were around zero °C . The right zipper broke during the trip, which Norrøna repaired free of charge. To carry the extra 660 gr was one of the best gear decisions I made.
Clothes for rest and sleeping:
Sleep wear: Aclima WarmWool hood and longs (2020), Lars Monsen Anárjohka (2019).
Footwear for rest etc: TEVA Terra Fi Lite (2019), Salomon Speedcross 5 (2020). I used the Salomon Speedcross primarily for walking on the paved roads at the end of the trip.
Socks: Two pair of wool socks (one for hiking, one for sleeping).
Underwear: 1 bra, 2 underpants. All 100% merino wool.
Warmpeace Skip Hat
Buff merino wool tubular
Norheim fleece gloves: Bought in 2020 during the trip (Åndalsnes) as temperatures began to drop below zero. Essential for autumn hiking.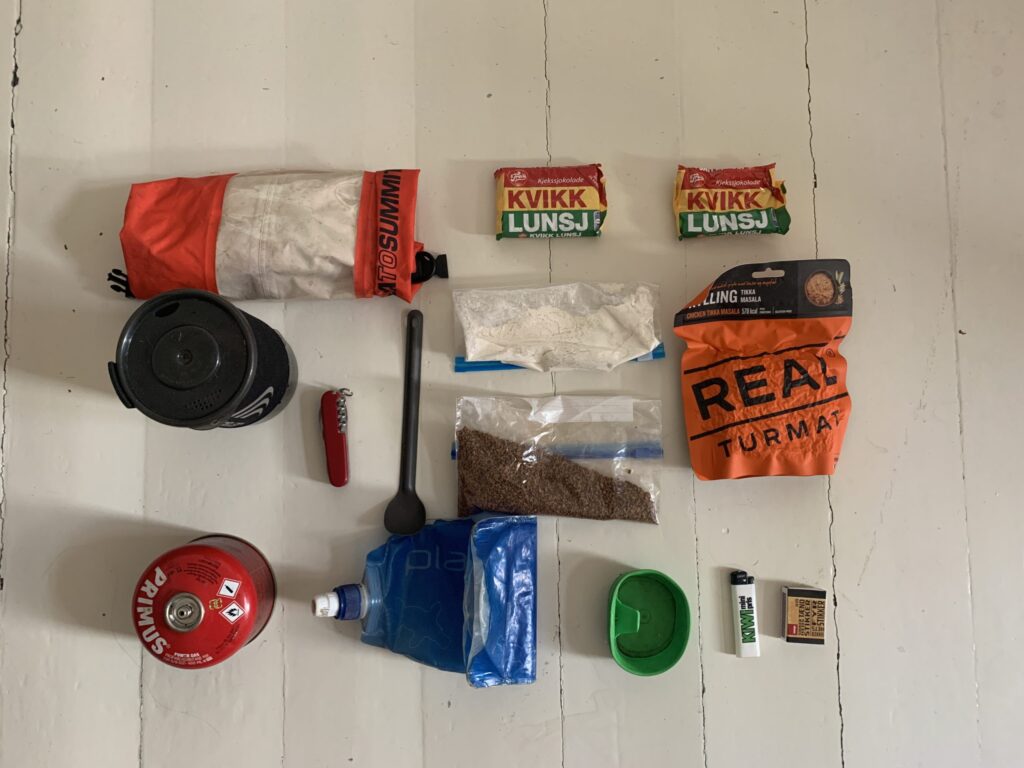 Food and cooking equipment
Trangia Storm Cooker (in 2019), JetBoil cooking system (in 2020). Both worked impeccably.
Long Titanium spoon
Small pocket knife
1 L Platypus soft water bottle
Fold-A-Cup. I do not carry water. Instead I carry this cup in my pocket and fills it several times during the day.
230 gr. gas canister (whatever brand available).
One pocket lighter.
One box of matches.
One 8 L Sea To Summit Dry Sack.
Food items:
~200 gr. Nescafé coffee powder
~100 gr. CoffeeMate (as milk powder seems to clump and I only use it in my coffee)
"Minimum food" is the food I carry per day, when carrying food for > 7 days:
2 Kvikk Lunsj chocolate bars (morning + lunch, 249+249 kcal), 1 Real Turmat, or other brand (evening,~600 kcal). In addition I carry the coffee powder and milk powder as per above. In addition, I´ll eat whatever I find in huts etc. Thus ~1100 kcal per day, and far less than the 5-6000 kcal I spend on an average day. But for 10 days it is fine, and most importantly, it keeps the weight down.
Freeze-dried food is the most economic in terms of weight/calorie ratio. If I cannot get it, I´ll eat pasta or noodles for dinner. Generally I have to chose items with short cooking time, as the resupply points for gas are more rare than for food items.
South of Børgefjell, resupply possibilities were plenty and I´d carry quite a lot more food per day, adding bread, sausages, cheese to the "minimum food".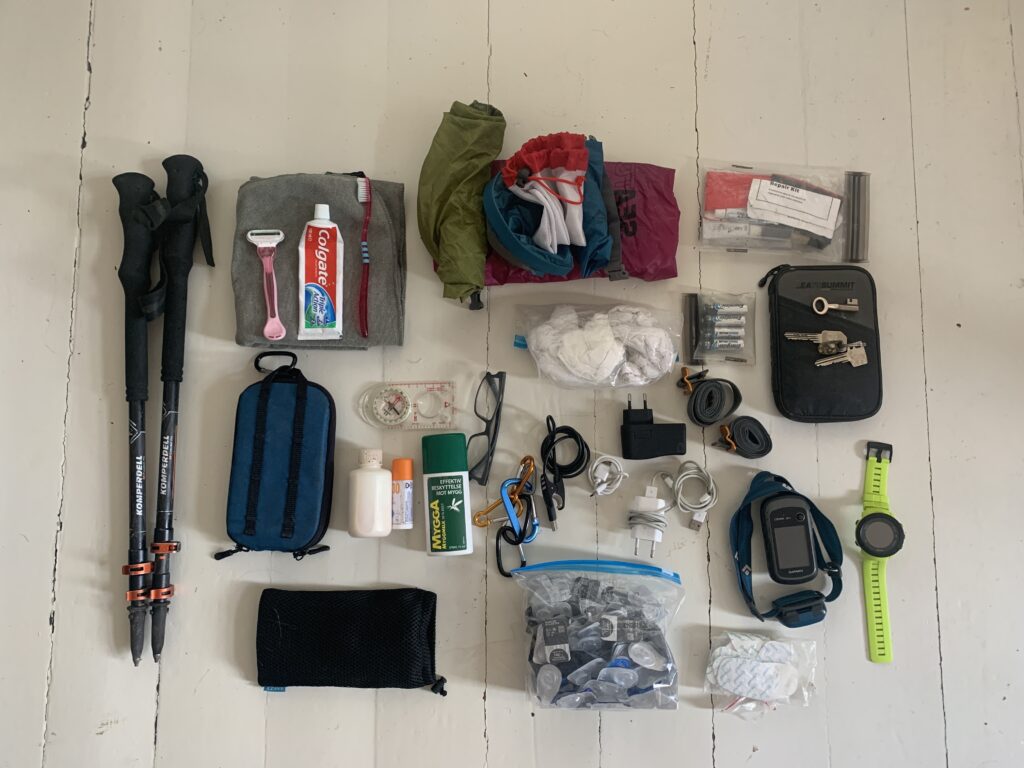 Toiletries:
1 mesh bag (3L): Tooth brush, tooth paste, toilet paper, lightweight towel.
2 drybags (4L +1L): Compeed, contact lenses, Ibubrufen, small multi-knife, lady shaver.

Electronics:
Anker Powercore+26000 (2020): The most powerful powerbank I could find. Well worth the weight of 590 gr. Charges my iPhone about 10 times and was essential (podcast, photo etc.) during my 12 days stretch without power supplies in Ryfylkeheiene.
SolarMonkey Adventurer solar Panel (2019): Worked well, helped by the midnight sun. Generated sufficient energy to enable my iPhone to be in constant GPS mode for 10 days, including podcast listening etc.
Garmin eTrex 30x GPS (only incoming signal).
iPhone XR (including cable): Probably the most essential item on the trip. Used as GPS, camera, podcast-listening, book reader.
Suunto Ambit3 sports watch.
Various charging cables as per above (*2 for iPhone)
Various

DNT key
Compass
Head lamp
Spare batteries
Mini carabiner (6-7 pieces)
Straps (*2)
Sunscreen
Mosquito spray
Reading glasses
Repair kit for sleeping pad, tent, extra goretech patches.
Wallet with private items: Passport, keys, credit cards etc.
Komperdell adjustable hiking poles Used mainly for balance during river crossings, but also in general. However, no matter how tight I made the locking syste, they would occasionally tend to be shortened when put under pressure in some semi-critical moments, which made me not quite trust them. In 2019 I used Distance FLZ trekking poles, however the closing system did not always work smoothly.
Fishing equipment: Only in 2019. Most days I was too exhausted to fish, and when I was not, I didn´t catch anything. A point to improve on.
What I did not bring:
First-aid items apart from mentioned below. Because I do not think they are necessary.
Sunglasses. Because I never use them.
Water: I never carried water. There was always plenty to find on the way.
GPS emergency sender: Quite frankly I did and do not find it necessary for this sort of trip. I am after all not crossing the North Pole. The thought that I have to manage whatever happens is actually quite liberating. Furthermore, in my opinion the biggest objective danger is river crossings, where an emergency spot would not help.
Paper maps: Carrying all the maps for the entire trip would first of all have been quite heavy, and secondly, quite expensive. But I was slightly anxious about this choice at first. I did have an old map covering half of Finnmarksvidda and two-thirds of the Narvik mountains, but after that I went 100% electronic.

Plan for navigation:
Plan A : Use the GPS on my iPhone (norgeskart and the ut.no app both work offline).
Plan B: If plan A fails, I have a Garmin GPS with routes downloaded whenever I could find them for free. Plan A never failed though and I never needed my GPS.
Plan C: I brought a compass for potential emergency exiting an area (such as Finnmarksvidda). My compass never left my backpack.