The Route: Sota Sæter-Sprongdalshytta-Arentzbu-Nørstedalseter-Fortundalen-Turtagrø. August 30-September 5, 2020. Day 136-42. 74 km.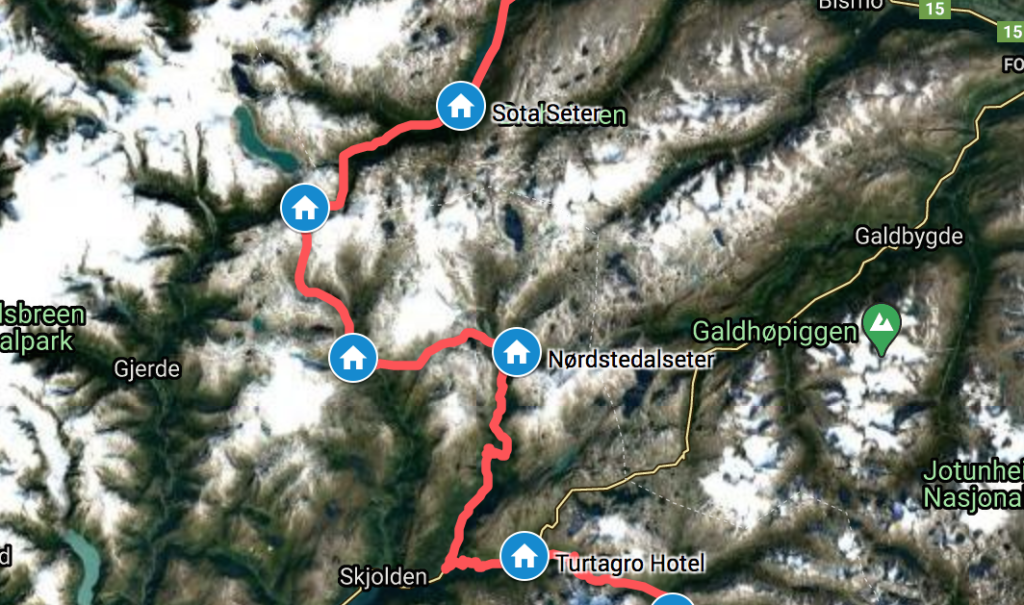 Sota Sæter marks the start of the 350 km hiking route DNT MASSIV, a collection of already existing trails now promoted as a long-distance trail by the DNT. I followed the DNT MASSIV for the entire length from Sota Sæter down to Haukeliseter, starting out arriving at Sota Sæter in the middle of a wedding, where I was most kindly offered some wedding cake.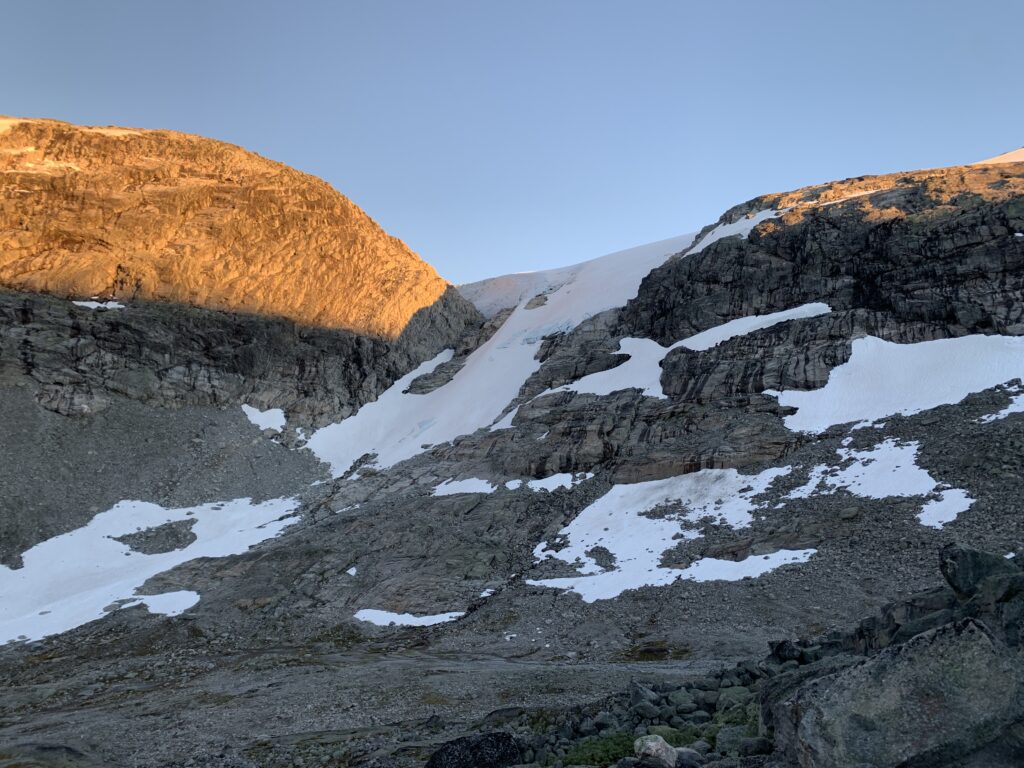 First of all, Breheimen is a very tough area to walk in, significantly tougher than Jotunheimen, one big valley away, and the toughest, but also arguably the most spectacular area since the Narvik mountains. Carved by retreating glaciers thousands of years ago and with Jostedalsbreen (biggest glacier on the European mainland) just on the other side of a deep valley. The ever undulating valleys are connected via snow-field covered passes, steep moraine slopes and plenty of stones, also of the boulder-sized, jumping kind slowing movement down to around 1 km per hour. For me, at least that is: At one point I was passed by three gentlemen, presumably in their 60s, moving with three times the speed of me. I met them twice, first while they overtook me on their way up a mountain a side and again when they came down that same side, me still on my way up..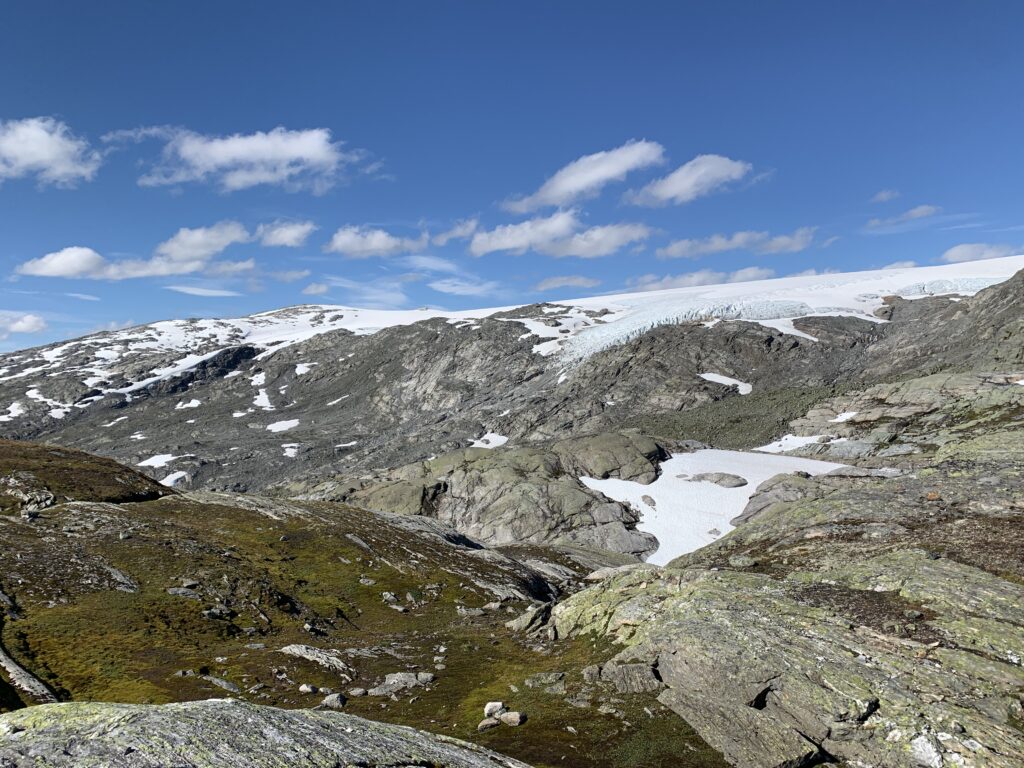 The terrain was sufficiently challenging that one night, despite being only 850 m from Sprongdalshytta with the cabin in clear view, I still decided to camp on the spot, due to the impending darkness in a very bouldery land shape too risky to walk in the dark, except in an emergency. The arguably hardest ascent of Norge på Langs was also to be found here: Short, but incredibly steep and muddy, right after Arentzbu on the way towards Nørdstedalseter. If more people walked here the trail would simply be eroded away. A bit further on, a quite nasty bridge had to be passed as well, the worst since Cunojávri. To exit the bridge, I had to throw down my backpack and jump down on it.
At this time of the year, I could have crossed the glacial river on foot. However, the staff at Nørdstedalseter cabin told of hikers having turned around at that bridge earlier in the summer, as waters were too high to cross the glacial river and they could not get onto the bridge. Apparently a stone was missing, they said. Anyway, upon their request I mailed them pictures of the bridge and they would then contact DNT about the issue.
The section Sota Sæter-Sprongdalshytta-Arentzbu-Nørdstedalseter was the toughest section since Knivskjellodden, where I furthermore managed to pick the wrong trail descending towards Nørdstedalseter: Trails made by sheep and trails made by humans look surprisingly alike. But more than 50 meters without a T-sign in this area should make you suspicious and often the sheep trail turn into vertical rock climbing.
In summary, Breheimen is a tough, tough, but also extremely spectacular and very underrated area. I had days of clear skies and optimal conditions in the beginning of September, and I was all alone on the trail, only crossing two people on this section. However entering Breheimen also means entering the area with easy resupply options via self-supplied DNT cabins, which will last until the mountains end, eliminating the need to carry more than food for 2-3 days at a time
Lesson learnt #9: In September with the beginning of sub-zero temperatures, the snowfields get incredibly icy and, at times, impossible to ascend. I met two guys carrying both crampons and ice axes and initially thought that a bit excessive. However, they were on the right track. Next time I´ll bring microspikes at least.
Dream trip #7: a) Exploring the area around Slæom, possibly with packraft. b) Walking the direct route between Nørdstedalseter and Sognefjellshytta passing the infamous stony area around Illvatnet. c) Walking on the edge of Breheimen including the area around the Fast DNT cabin.