An Afghan man of about 50 years was sitting with his son in front of their tent. No English was spoken, but they always smiled when I passed. They had made a small fire and they tried to heat some pita bread. They would always offer me a bread whenever I passed the tent.
An Afghan Woman from Kabul, also about 50, had arrived with her daughter and two sons. All children spoke English, she spoke a little bit. I was immediately offered peanuts when I sat down in front of her tent while we waited for her daughter, who spoke English. To find female Farsi-English interpreters was not easy. The daughter immediately volunteered to spend time in the hospital tent translating and she spent two days with us, until she got her registration papers and left.
Ramazan, 20 years, comes from Herat, Afghanistan. He left alone, in search of settling in a country with better opportunities for education and jobs. He had been traveling for two months, spending additional time in Turkey trying to raise money for the boat journey to Greece. He told me he payed 800 Euro for a seat in an overcrowded rubber boat. He wants to go to Switzerland, where his uncle is.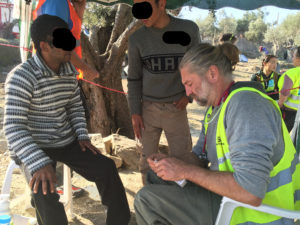 KK is a 40 years old and from Kabul. He said worked for the NATO forces as a translator in Helmand province. He left Kabul as he was afraid that the Talebans may take the city, in which case his life would be in danger.
Zainab is 30 years old and from Iraq, less than 20 km from the Syrian border. She does not speak English. She arrived with her three young children. Her husband had been killed in a bombing. Her son was injured. She showed me the scars. She does not care which country she will go to.
I met the above-mentioned people while I worked as a doctor in the Moria Camp on Lesvos in November 2015.